Model:
Issue: Some 2013-2018 Escape, Focus and C-Max vehicles may exhibit a water stained headliner after the vehicle has experienced a water leak from areas such as the roof opening panel, fixed glass, roof rails and roof ditch mouldings. Follow the procedure below to remove the water stains from the headliner after the water leak has been repaired.
Action: Follow the Service Procedure steps to correct the condition.
Parts
| Description | Quantity | Part Number |
| --- | --- | --- |
| Motorcraft ZC-54 Professional Strength Carpet and Upholstery Cleaner or equivalent | 1 | ZC-54 |
Warranty Status: Eligible Under Provisions Of New Vehicle Limited Warranty Coverage Warranty/ESP coverage limits/policies/prior approvals are not altered by a TSB. Warranty/ESP coverage limits are determined by the identified causal part and verified using the OASIS part coverage tool.
Labor Times
| Description | Operation No. | Time |
| --- | --- | --- |
| Remove The Water Stains From The Headliner Following The Service Procedure | MT172218 | Actual Time |
Repair/Claim Coding
| | |
| --- | --- |
| Causal Part: | 7850202 |
| Condition Code: | 68 |
Service Procedure
Does the headliner have water stains?
(1). Yes – proceed to Step 2.
(2). No – this article does not apply.
Fully open all vehicle doors.
Identify the area(s) of the headliner to be cleaned. (Figures 1-2)
Figure 1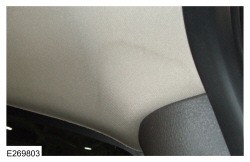 Figure 2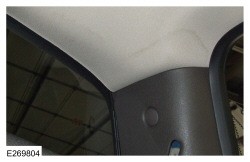 Saturate a clean white cotton towel with water and wring out excess water.
(1). In areas with hard water, use of distilled water is recommended.
Apply a significant amount of Motorcraft ZC-54 Professional Strength Carpet and Upholstery Cleaner or equivalent to the towel. (Figure 3)
(1). Follow all manufacturer's product handling recommendations.
Figure 3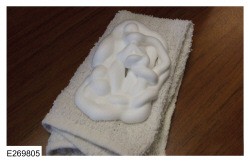 Figure 4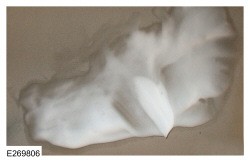 Figure 5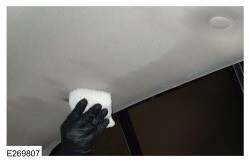 Figure 6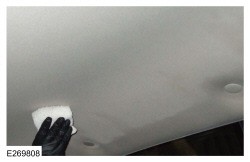 After working the cleaner into the headliner place a shop fan in the door openings and direct the airflow up toward the headliner to aid in drying.
Repeat Steps 4 through 8 a second time.
---
17-2218
02 November 2017
https://www.nhtsa.gov/recalls?nhtsaId=10127394
https://static.nhtsa.gov/odi/tsbs/2017/MC-10127394-9999.pdf
---
Sale
Bestseller No. 1
Bestseller No. 2
Hoover CleanPlus Concentrated Solution Formula Carpet Cleaner and Deodorizer, 64 oz, AH30330NF, Red
Concentrated powerful detergent solution for everyday stains, odors, dirt and grime on carpets, area rugs, upholstery, and car interiors
Fresh Linen Scent
Use with a Hoover PreTreat Spray to ensure best-results and continue to use it as part of a regular maintenance program to extend the life of your carpets
Safe for use in leading spot and full size deep cleaning machines, including Hoover, Bissell, and Rug Doctor, when used as directed
Phosphate Free, Non-Toxic and Septic Safe; Made in the U.S.A.
Bestseller No. 3
Folex Instant Carpet Spot Remover (32oz, Pack of 2)
Removes stubborn grease, dirt and grime
Ideal for pet accidents, grease, ink, red wine, coffee, blood, rust, food, cosmetics, dirt, grime, and most old stains
Excellent for carpet, upholstery, woodwork, and wall surfaces
Safe for any colorfast carpets and upholstery
Requires no rinsing or vacuuming - Requires no rinsing or vacuuming
Sale
Bestseller No. 4
Sale
Bestseller No. 5
Bissell Professional Power Shot Oxy Carpet Spot, 14 Ounces, 95C9 Stain Remover,
Professional Power Shot Oxy removes tough, set-in stains like red wine, pet soils, coffee, and motor oil
Outcleans the leading aerosol spot cleaner on tough stains like red wine, grape juice, and coffee
Eco-friendly formula and packaging-biodegradable detergent, recyclable package, and no-VOC* formula (*No solvent content and no hazardous propellants)
StainLift Technology permanently removes stains and odors
Bestseller No. 6
Chemical Guys CWS_103 Fabric Clean Carpet and Upholstery Shampoo and Odor Eliminator (1 Gal)
Fastest and strongest spot and stain remover shampoo
Combines a superior biodegradable degreaser with an enzymatic odor eliminator for immediate odor control and long lasting, deep cleaning benefits of biotechnology
Naturally-occurring microbes in this product degrade the organic compounds that cause odor, eradicating them completely and leaving behind a fresh scent
No toxic chemicals, ammonia, bleach, color damaging detergent, or solvents
Fabric clean cleaner removes stains fast and restores fabric, carpet and upholstery to like-new condition
Bestseller No. 7
Bissell 1613A Pet Boost Oxy Formula for Cleaning Carpets
What is it? Small (16oz) bottles that deliver unique benefits that can be added to any deep cleaning formula to boost performance
Universal for all UDC/PDC machines and formulas
Pet Oxy BOOST Formula
Deeply penetrates to permanently remove tough stains.
Scotchgard Protector:No
Bestseller No. 8
Bestseller No. 9
Capture Carpet Dry Cleaner Powder 4 Pound-Resolve Allergens Smell Moisture from Rug Furniture Clothes and Fabric, Mold Pet Stains Odor Smoke and Allergies Too
Remove stains, smells and eliminate moisture that contributes to growth of bacteria, mold, allergies, dust mites. FOR ALLERGY RELIEF Use Every 8 Weeks
Prolong life of carpet and fabrics. Combine with Capture Pre-Mist for very difficult stains spots and spills. Remover of dirt, odors and allergens from pets, dogs, cats and moisture
Safe for all types of carpets, fabric, silk, surfaces and material. Spots will not reappear. Re-sealable lid, easy storage container.
Absorbent deep cleaning powder: Wet cleaners add moisture to your carpets, rugs, upholstery, furniture, sofa, couch to create the ideal environment for mold, allergens and bacteria to grow. Capture Dry Powder Cleaner removes the moisture, making it difficult for these unwanted growths to live.
4lb Pail Made in the USA. Highest Quality, if you are not in LOVE with Capture products, send back for a full refund.
Bestseller No. 10
Last update on 2019-05-18 / Affiliate links / Images from Amazon Product Advertising API
Last update on 2019-05-18 / Affiliate links / Images from Amazon Product Advertising API