6.7L DIESEL – VEHICLES BUILT ON OR BEFORE 2/12/2012 – RUNS ROUGH/MISFIRE – BROKEN INJECTOR HOLD DOWN CLAMP – BUILT ON OR BEFORE 2/12/2012
F-Super Duty vehicles equipped with a 6.7L diesel engine and built on or before 2/12/2012 may exhibit a runs rough and/or misfire concern with or with out diagnostic trouble codes (DTCs) P0300, P0301, P0302, P0303, P0304, P0305, P0306, P0307 and P0308. This may be due to a broken injector hold down clamp.
SERVICE PROCEDURE
Inspect all eight (8) fuel injector hold down clamps for a broken ear. Are any of the injector hold down clamps broken? (Figure 1)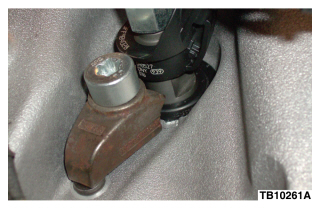 Figure 1
No – this article does not apply, refer to the Powertrain Control/Emission Diagnosis manual (PC/ED) for normal diagnosis.
Yes – proceed to Step 2.
Replace the broken fuel injector clamp(s), reseal the affected fuel injector(s) and replace the injector-to-valve cover seal.

Pry the injector-to-valve cover seal out of the valve cover using a screw driver. The new seal can be installed using a 22 mm socket or equivalent.

Inspect the fuel injector return hose connection at the injector(s) for damage. If damage is present, replace the injector return hose.