Some 4X4 equipped vehicles may exhibit a rear axle pinion seal leak at the Rotary Blade Coupling (RBC). This may be caused by the design of the pinion seal.
ACTION:
Replace the pinion seal at the RBC.
SERVICE PROCEDURE
NOTE: THE CLUTCH ASSEMBLY IS A BALANCED UNIT. IF THE FOLLOWING INDEXING PROCEDURE IS NOT UTILIZED, A VIBRATION MAY OCCUR.
Index mark the driveshaft and end yoke before removing.
Remove driveshaft.
Remove pinion nut.
Using a punch, mark one of the splines on the yoke ( Figure 1 ).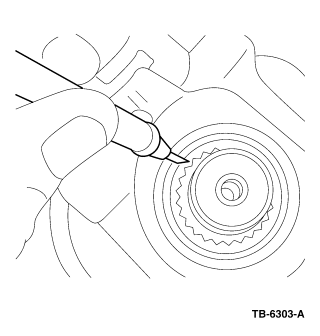 Figure 1
Mark the corresponding spline on the pinion gear ( Figure 2 ).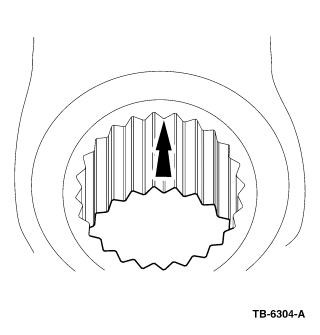 Figure 2
NOTE: A SMALL PUNCH THAT CAN BE INSERTED BETWEEN THE END YOKE SPLINE AND PINION GEAR IS REQUIRED.
Remove end yoke.
Remove pinion seal.
Install new Pinion Seal (YL8Z-4N046-AA) using seal installer tool. SPECIAL TOOL PART NUMBER T80T-4000-C (205-137).
Assemble end yoke to pinion gear spline. Align the marks made during disassembly.
Install pinion nut and torque to 217-271 N-m (160-200 lb-ft) ( Figure 3 ).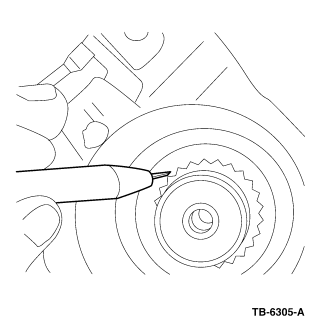 Figure 3
Assemble driveshaft to end yoke ( Figure 4 ) and torque to 23 N-m (17 lb-ft).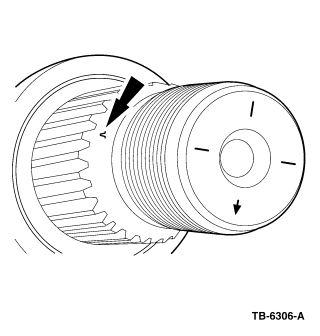 Figure 4