SQUEAK / CREAK NOISE FROM REAR – VEHICLES BUILT BEFORE 9/5/2006
2006-2007 Escape, Mariner, Escape Hybrid and Mariner Hybrid vehicles built before 9/5/2006 may exhibit a high pitched squeaking noise from the rear upper shock bushing area.
This concern is more noticeable while driving over small cracks or bumps during parking lot maneuvers.
This may be caused by the upper shock bushing coming out of position causing the shock rod to contact the body.
NOTE: IT IS NOT NECESSARY TO REPLACE THE SHOCK ASSEMBLY.
SERVICE PROCEDURE
Verify noise is present by bouncing the parked vehicle from the rear and listening to the rear shock area. If inaudible, drive the vehicle and listen to the rear shock area during parking lot maneuvers over small bumps. If noise is determined to be from the upper rear shock area, continue with repair procedure.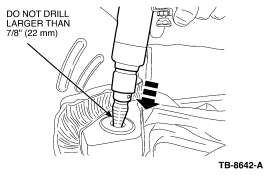 Figure 1
De-burr the newly drilled hole and coat with Motorcraft Low Temperature Anti-Corrosion Coating, PM-12-A.
NOTE: USE OF PM-12-A FOR THE ENLARGED HOLE IS ESSENTIAL TO PREVENT CORROSION IN THIS CRITICAL AREA EXPOSED TO MOISTURE AND ROAD SALT.
Install new lower half of the upper bushing and washer onto shock rod. (Figure 2)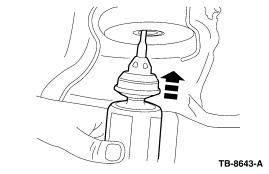 Figure 2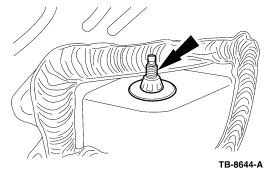 Figure 3
Install upper bushing / washer nut and torque to 29 lb-ft (40 N-m).
NOTE: IT MAY BE NECESSARY TO HOLD THE TOP OF SHOCK ROD DURING TORQUE OPERATION TO ELIMINATE ROTATION OF SHOCK ROD.
NOTE: BUSHING WILL BE NOTICEABLY COMPRESSED MORE THAN THE STOCK BUSHING. (FIGURE 4)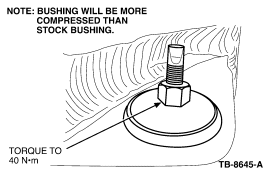 Figure 4
Repeat procedure for the other side.
Reinstall the rear trim panels.
| | |
| --- | --- |
| PART NUMBER | PART NAME |
| 7L8Z-18198-A | Shock Assembly Mounting |
| PM-12-A | Motorcraft Low Temperature Anti-Corrosion Coating |