INACCURATE FUEL GAUGE INDICATOR – VEHICLE BUILT BEFORE 11/1/2007
2007-2008 Edge and MKX vehicles built before 11/1/2007, may experience an inaccurate low fuel gauge indicator.
This condition may be caused by a stuck float arm on the fuel delivery module.
The fuel delivery module float arm could get hung up on the fuel tank baffle plate.
This failure mode will only occur when the fuel tank is at or near empty fuel level.
When the fuel tank is refilled to a full level, the fuel gauge will continue to read a low fuel fill level.
For all other fuel gauge related concerns, refer to Workshop Manual (WSM).
SERVICE PROCEDURE
Once the fuel delivery module is removed from the fuel tank, access the fuel tank baffle through the fuel tank fuel delivery opening. (Figure 1)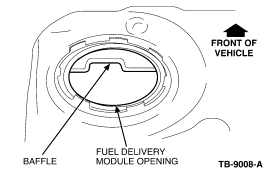 Figure 1
Move the baffle plate with a wooden object or by hand towards the front of the vehicle to prevent interference between the baffle and the float arm. The fuel tank baffle plate is a metal plate that is easy to move by hand or using a tool with no consequent damage to the baffle.
The fuel delivery module float arm should have a clearance of 1 5/32″ (29.63 mm) in the empty tank position (bottom) and 13/16″ (20.73 mm) in the full tank position (up). (Figure 2)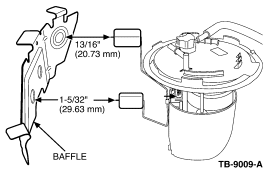 Figure 2
Install the fuel delivery module.