August 21, 2018
TO: All U.S. Ford and Lincoln Dealers
SUBJECT: Customer Satisfaction Program 18B20
Certain 2017-2018 Model Year Continental Livery Vehicles
Seat Back Bolster Replacement
PROGRAM TERMS
This program will be in effect through August 31, 2019.  There is no mileage limit for this program.
URGENCY / EXPIRATION DATE
This Customer Satisfaction Program has an expiration date of August 31, 2019 to encourage dealers and customers to have this service performed as soon as possible.
We recommend dealers utilize their FSA VIN Lists name and address available by September 19, 2018 to contact customers with affected vehicles.  This will help minimize the number of vehicles that may have cracked seat back bolsters, which may require a more extensive repair.
AFFECTED VEHICLES
| Vehicle | Model Year | Assembly Plant | Build Dates |
| --- | --- | --- | --- |
| Continental Livery | 2017-2018 | Flat Rock | August 1, 2016 through February 21, 2018 |
Affected vehicles are identified in OASIS and FSA VIN Lists.
REASON FOR THIS PROGRAM
In some of the affected vehicles, the front driver or passenger seat back bolster may crack, resulting in a loose outboard bolster and/or a gap between the foam trim and surrounding plastic.
SERVICE ACTION
Dealers are to replace both the driver and passenger front seat back bolsters.  This service must be performed on all affected vehicles at no charge to the vehicle owner.
OWNER NOTIFICATION MAILING SCHEDULE
Owner letters are expected to be mailed the week of September 3, 2018.  Dealers should repair any affected vehicles that arrive at their dealerships, whether or not the customer has received a letter.
ATTACHMENTS
Attachment I: Administrative Information
Attachment II: Labor Allowances and Parts Ordering Information
Attachment III: Technical Information
Owner Notification Letter
QUESTIONS & ASSISTANCE
For questions and assistance, contact the Special Service Support Center (SSSC) via the SSSC Web Contact Site.  The SSSC Web Contact Site can be accessed through the Professional Technician Society (PTS) website using the SSSC link listed at the bottom of the OASIS VIN report screen or listed under the SSSC tab.
Sincerely,
David J. Johnson
---
ATTACHMENT I
Customer Satisfaction Program 18B20
Certain 2017-2018 Model Year Continental Livery Vehicles
Seat Back Bolster Replacement
OASIS ACTIVATION
OASIS will be activated on August 21, 2018.
FSA VIN LISTS ACTIVATION
FSA VIN Lists will be available through https://web.fsavinlists.dealerconnection.com on August 21, 2018.  Owner names and addresses will be available by September 19, 2018.
NOTE:  Your FSA VIN Lists may contain owner names and addresses obtained from motor vehicle registration records.  The use of such motor vehicle registration data for any purpose other than in connection with this program is a violation of law in several states, provinces, and countries.  Accordingly, you must limit the use of this listing to the follow-up necessary to complete this service action.
SOLD VEHICLES
Owners of affected vehicles will be directed to dealers for repairs.
Immediately contact any of your affected customers whose vehicles are not on your VIN list but are identified in OASIS. Give the customer a copy of the Owner Notification Letter (when available) and schedule a service date.
Correct other affected vehicles identified in OASIS which are brought to your dealership.
Dealers are to prioritize repairs of customer vehicles over repairs of new and used vehicle inventory.
STOCK VEHICLES
Correct all affected units in your new vehicle inventory before delivery.
Use OASIS to identify any affected vehicles in your used vehicle inventory.
TITLE BRANDED / SALVAGED VEHICLES
Affected title branded and salvaged vehicles are eligible for this service action.
OWNER REFUNDS
Ford Motor Company is offering a refund for owner-paid repairs covered by this program if the repair was performed before the date of the Owner Notification Letter. This refund offer expires February 28, 2019.
Dealers are also pre-approved to refund owner-paid emergency repairs that were performed away from an authorized servicing dealer after the date of the Owner Notification Letter. Non-covered repairs, or those judged by Ford to be excessive, will not be reimbursed.
Refunds will only be provided for the cost associated with front seat back bolster replacement.
RENTAL VEHICLES
Rental vehicles are not approved for this program.                                                 
ADDITIONAL REPAIR (LABOR TIME AND/OR PARTS)
Additional repairs identified as necessary to complete the FSA should be managed as follows:
For related damage and access time requirements, refer to the Warranty and Policy Manual – Section 6 – Ford/Lincoln Program Policies – Field Service Actions (FSA) – Related Damage.
For vehicles within new vehicle bumper-to-bumper warranty coverage, no SSSC approval is required. o Lincoln vehicles – 4 years or 50,000 miles
For vehicles outside new vehicle bumper-to-bumper warranty coverage, submit an Approval Request to the SSSC Web Contact Site prior to completing the repair.
CLAIMS PREPARATION AND SUBMISSION
Enter claims using Dealer Management System (DMS) or One Warranty Solution (OWS) online.

When entering claims, select claim type 31: Field Service Action. The FSA number 18B20 is the sub code.
For additional claims preparation and submission information, refer to the Recall and Customer Satisfaction Program (CSP) Repairs in the OWS User Guide.

Additional labor and/or parts must be claimed as related damage on a separate repair line from the FSA. IMPORTANT: Click the radio button on the Related Damage Indicator.
For rental vehicle claiming, follow Extended Service Plan (ESP) guidelines for dollar amounts. Enter the total amount of the rental expense under Miscellaneous Expense code RENTAL.
Submit refunds on a separate repair line.

Program Code:  18B20            –  Misc. Expense:  ADMIN
Misc. Expense:  REFUND       –  Misc. Expense:  0.2 Hrs.
Multiple refunds should be submitted on one repair line and the invoice details for each repair should be detailed in the comments section of the claim.
---
ATTACHMENT II
Customer Satisfaction Program 18B20
Certain 2017-2018 Model Year Continental Livery Vehicles
Seat Back Bolster Replacement
LABOR ALLOWANCES
| Description | Labor Operation | Labor Time |
| --- | --- | --- |
| Replace both front seat back bolsters | 18B20B | 1.0 Hours |
PARTS REQUIREMENTS / ORDERING INFORMATION
| Description | Order Quantity | Claim Quantity | Part Number |
| --- | --- | --- | --- |
| Seat back bolster | 2 | 2 | GD9Z-9660081-BC |
Order your parts requirements through normal order processing channels.  To guarantee the shortest delivery time, an emergency order for parts must be placed.
DEALER PRICE  
For latest prices, refer to DOES II.
PARTS RETENTION AND RETURN
Follow the provisions of the Warranty and Policy Manual, Section 1 – WARRANTY PARTS RETENTION AND RETURN POLICIES.
EXCESS STOCK RETURN
Excess stock returned for credit must have been purchased from Ford Customer Service Division in accordance with Policy Procedure Bulletin 4000.
---
ATTACHMENT III
CERTAIN 2017-2018 MODEL YEAR CONTINENTAL LIVERY VEHICLES — SEAT BACK BOLSTER REPLACEMENT
OVERVIEW
In some of the affected vehicles, the front driver or passenger seat back bolster may crack, resulting in a loose outboard bolster and/or a gap between the foam trim and surrounding plastic. Dealers are to replace both the driver and passenger front seat back bolsters.
SERVICE PROCEDURE
Recommended Tool List:
General Tools
Plastic Trim Tool
Pick/Hook Tool
Remove the affected front seat backrest cover. Please follow the procedures in Workshop Manual (WSM) Section 501-10A.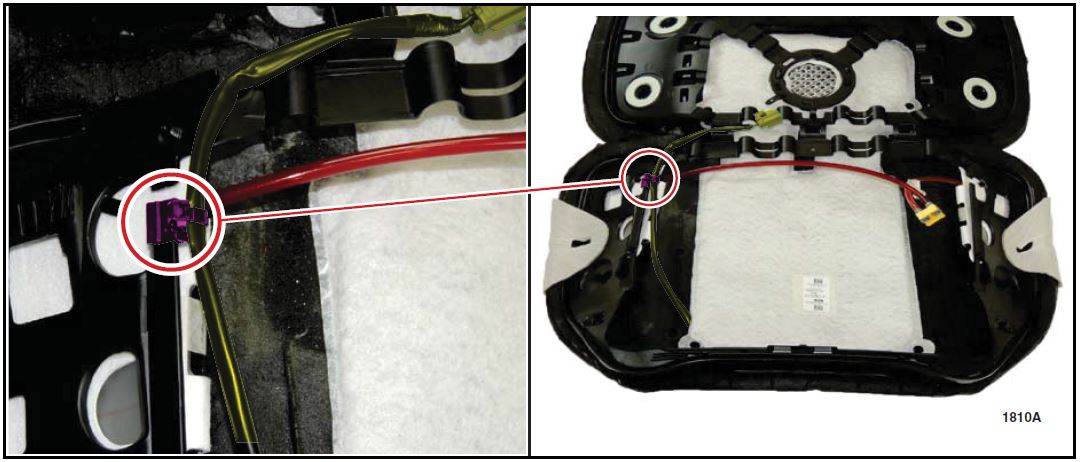 FIGURE 1
Release the heater mat fabric wrap around extensions and position aside. See Figure 2.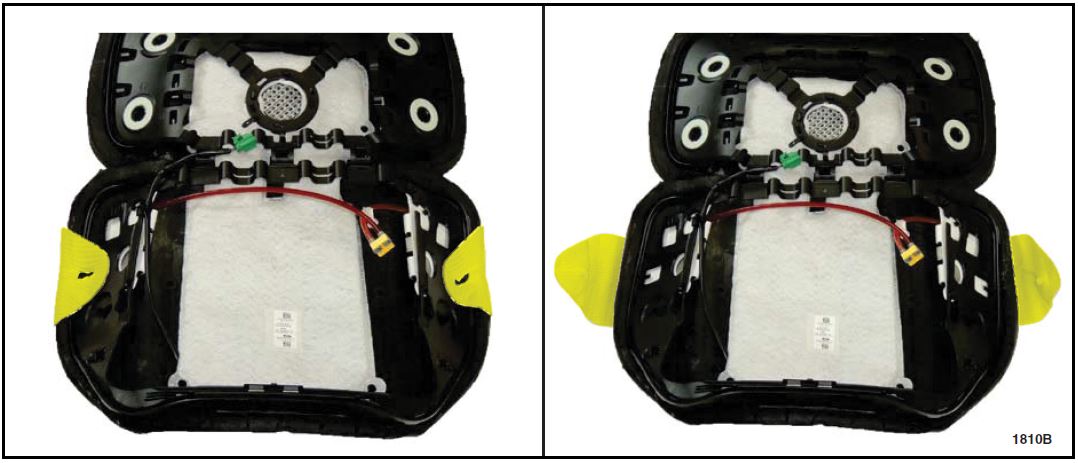 FIGURE 2
FIGURE 3
Release the pin-type retainers and remove both multi-contour bladders. See Figure 4.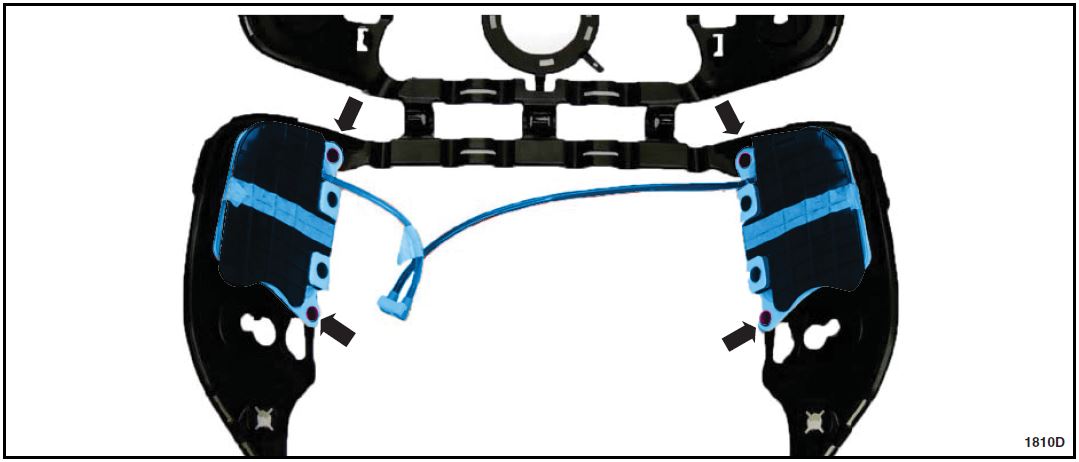 FIGURE 4
Reverse the removal procedure using the new bolster to reassemble the front seat backrest cover assembly.
NOTE: Prior to installation of the hose and lock assemblies, verify the black O-ring and white spacer remains with each hose. The black O-rings are installed first, then the white spacers lock them in.
NOTE: When connecting the hose and lock assemblies, an audible click must be heard for correct installation.
---
18B20
https://www.nhtsa.gov/recalls?nhtsaId=10144956
https://static.nhtsa.gov/odi/tsbs/2018/MC-10144956-9999.pdf
---
Bestseller No. 1
Chemical Guys Leather Cleaner and Conditioner Complete Leather Care Kit (16 Oz) (2 Items)
It's not just for car seats & interiors: This kit works on all things leather, seats, interiors, jackets, shoes, sneakers, boots, sofas and more; Everyone has something leather in their home.
Treat your leather like your hair & skin: We all wash our skin and hair on a regular basis, and use conditioners and lotions to keep out skin hydrated and fresh.
PH Balanced: Leather cleaner is pH balanced for the most efficient cleaning and preserves the leather's strength, durability and appearance; Penetrates the pores of leather to lift and suspend dirt and oils
Fast, Easy & Fun: No one "loves to clean", but if you are using products that make it fast and easy, it's certainly more fun both products are extremely easy to use, and leave no residue like soaps, nor will they contribute to fiber deterioration
Keep your leather looking & smelling new: Leather cleaner is colorless and odorless and penetrates the pores of your leather to lift and remove dirt and oils, while leather conditioner, which has a subtle leather scent, contains Vitamin E to nourish your leather and help reduce UV damage
Bestseller No. 2
Weiman Leather Cleaner and Conditioner for Furniture - 22 Ounce - Cleans Conditions and Restores Leather Surfaces - UV Protectants Help Prevent Cracking or Fading of Leather Car Seats, Shoes, Purses
Simple & Non-Toxic - Condition & protect in one simple step to maintain any finished leather surface
Use On - Use regularly on accessories such as leather, purses, shoes, boots, briefcases & handbags
Protect - UVX - Sunscreen protects all types of leather from sun damage, fading, drying & cracking
Restore - Safely removes dirt, soil & residue to soften, strengthen & moisturize neglected leather
Recommended - Finished leather surfaces including car interior shoes boots briefcases handbags & coats
Sale
Bestseller No. 3
Lexol Conditioner Cleaner Kit, Use on Car Leather, Furniture, Shoes, Bags, and Accessories, Quick & Easy Step Regimen, 8 oz Bottles, Includes Two Application Sponges
Easily clean and condition leather to renew its appearance and prolong suppleness with this 2-step Lexol Leather Regimen Kit
Kit contains: (1) 8 oz. bottle of All Leather Deep Cleaner, (1) 8 oz. bottle of All Leather Deep Conditioner, and 2 Premium Applicator Sponges
Cleaner restores and revives leather by lifting dirt and oils, allowing them to be easily wiped away
Conditioner contains fine oil droplets that nourish, restore flexibility, and protect leather against cracking without leaving greasy residue
Easy-to-use cap dispenses, Ideal for use on: leather auto upholstery, footwear, furniture, handbags & briefcases, sports equipment and luggage
Bestseller No. 4
TriNova Leather Cleaner for Couch, Car Interior, Bags, Jackets, Saddles. Safe for use in Home or Car, Microfiber Included 18oz
☑️ Safe for many surfaces - Will also work on durablend, vinyl, compound, saffiano, faux and other leather or leather-like surfaces.
☑️ Easy to use - simply spray on and wipe off to eliminate almost any surface stain and give new life to your leather.
☑️ Effective and Safe - Works to remove dirt, debris, stains, and grime without using harsh chemicals.
☑️ Premium Formula - Developed by leather experts to deliver top quality results.
☑️ Extend the Life of Your Leather - Routine cleaning and conditioning can help quality leather goods to last a lifetime
Sale
Bestseller No. 5
Leather Honey Leather Conditioner, Best Leather Conditioner Since 1968. for Use on Leather Apparel, Furniture, Auto Interiors, Shoes, Bags and Accessories. Non-Toxic and Made in The USA!
OUR LEATHER CONDITIONER WAS INVENTED OVER 50 YEARS AGO WITH MILLIONS OF HAPPY CUSTOMERS. Same time-tested formula used today!
ONE TREATMENT LASTS SIX MONTHS OR LONGER. Deeply penetrates into the leather's pores to protect new leather and rejuvenate old leather. Softens, moisturizes and promotes flexibility leaving your leather feeling and looking beautiful! A little goes a long way; no need to reapply monthly as with other products.
THIS LEATHER CONDITIONER PROLONGS THE LIFE OF ALL TYPES OF LEATHER, including leather furniture and upholstery, automobile and motorcycle seats, boots, gloves, purses, jackets, saddles and tack. Non-toxic, non-solvent, not sticky, no odor and does not contain silicone. Water, snow and rain repellent formula. Not for use on suede or faux leather/vinyl.
UNLIMITED 100% SATISFACTION GUARANTEE. If you're not satisfied, return the product at any time for a full refund.
A LEATHER CONDITIONER THAT IS MADE IN THE USA by a small family business owned by the grandchildren of the original inventor. Use with Leather Honey Leather Cleaner, also available on Amazon!
Bestseller No. 6
Chemical Guys Leather Cleaner and Conditioner Complete Leather Care Kit (4 Ounce) (2 Items)
IT'S NOT JUST FOR CAR SEATS & INTERIORS: This kit works on all things leather - seats, interiors, jackets, shoes, sneakers, boots, sofas and more; Everyone has something leather in their home, therefore this kit is a "must buy"
TREAT YOUR LEATHER LIKE YOUR HAIR & SKIN: We all wash our skin and hair on a regular basis, and use conditioners and lotions to keep out skin hydrated and fresh; This kit does the same thing for your leather products
PH BALANCED: Leather Cleaner is pH balanced for the most efficient cleaning and preserves the leather's strength, durability and appearance; penetrates the pores of leather to lift and suspend dirt and oils
FAST, EASY & FUN: No one "loves to clean", but if you are using products that make it fast and easy, it's certainly more fun! Both products are extremely easy to use, and leave no residue like soaps, nor will they contribute to fiber deterioration
KEEP YOUR LEATHER LOOKING & SMELLING NEW: Leather cleaner is colorless and odorless and penetrates the pores of your leather to lift and remove dirt and oils, while Leather Conditioner, which has a subtle leather scent, contains Vitamin E to nourish your leather and help reduce UV damage
Sale
Bestseller No. 7
Lexol Leather Cleaner, 16.9 oz Best Cleaning and Conditioner Since 1933-For Use on Apparel, Furniture, Auto Interiors, Shoes, Bags and More
Safely renew, restore, and revive your leather with Lexol All Leather Deep Cleaner in a 16. 9 oz.
Returns a like-new appearance to leather by lifting dirt and oils, allowing for an easy wipe-away clean
Free of waxes, oils, and unnecessary additives to help protect leather seats and other items from damage and discoloration
Perfect for cleaning leather car interiors, furniture, briefcases, shoes, jackets, sports gear, and more
Easy-to-use cap helps control the amount of leather cleaner dispensed
Bestseller No. 8
Chemical Guys SPI_208_16 Colorless and Odorless Leather Cleaner (16 oz)
Easily wipe away contaminants without harming leather
pH-balanced to leather for the most efficient cleaning
Preserves the leather's strength, durability and appearance
Leaves no residue like soaps and will not contribute to fiber deterioration
Water-based surfactants and non-alkaline cleaning agents penetrate deep into every pore to gently lift out dirt, grease and oils
Sale
Bestseller No. 9
MEGUIAR'S G10924SP Gold Class Rich Leather Cleaner and Conditioning Spray, 24 Fluid Ounces
All-in-one leather treatment cleans, conditions and protects for complete leather care in one easy step
Gentle leather cleaners safely and effectively remove dirt and grime
UV protection helps prevent premature aging, drying, cracking and fading
Premium leather conditioners and aloe provide nourishment for soft, supple leather
Non-greasy formula cleans and protects without leaving a white residue
Bestseller No. 10
Weiman Leather Cleaner & Conditioner Care Kit
Simple & Non Toxic - Condition & protect in one simple step to maintain any finished leather surface
Use on - Use regularly on accessories such as leather, purses, shoes, boots, briefcases & handbags
Protect - UVX - Sunscreen protects all types of leather from sun damage, fading, drying & cracking
Restore - Safely removes dirt, soil & residue to soften, strengthen & moisturize neglected leather
Recommended - Finished leather surfaces including car interior shoes boots briefcases handbags & coats - Do not use on suede, nubuck, Natuzzi Brand or any unfinished leather
Last update on 2020-07-11 / Affiliate links / Images from Amazon Product Advertising API
Last update on 2020-07-11 / Affiliate links / Images from Amazon Product Advertising API