DULL CLICK/POP NOISE FROM FRONT SUSPENSION WHEN TURNING – BUILT ON OR BEFORE 3/28/2008
2008 Focus vehicles built on or before 3/28/2008 may exhibit a dull click/pop noise when turning from the front suspension system contacting the inner splash shield during certain vehicle maneuvers.
The most common maneuvers are:
Entering or exiting a driveway or parking lot approach that causes the front suspension to compress during sharp turns.
Driving over bumps, at slow speeds, with multiple passengers and turning sharply.
ACTION:
Trim the inner fender splash shields to prevent contact.
SERVICE PROCEDURE
Inspect inner fender splash shield for witness marks in the areas indicated. (Figures 1 and 2)
Remove the inner fender splash shields.
Mark the indicated area 13/32″ X 7 7/8″ (10 mm x 200 mm). (Figures 1 and 2)
Trim off marked section with a sharp utility knife. Trimming by other methods may result in a rough or jagged finished edge.
Install the inner fender splash shields.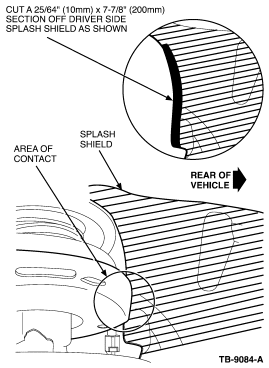 Figure 1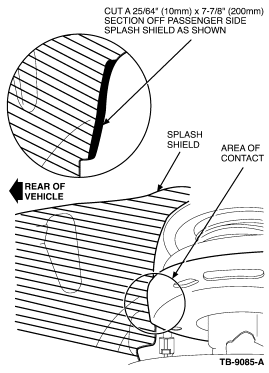 Figure 2