Some vehicles may exhibit an engine knock during initial cold start, the knock will cease after the engine is fully warmed up.
ACTION:
To service, install Exhaust Shield Kit (3W7Z-5E258-AA).
SERVICE PROCEDURE
NOTE: DO NOT REMOVE EXISTING CATALYTIC CONVERTER SHIELDS.
Place vehicle on a lift.
NOTE: ALLOW VEHICLE EXHAUST SYSTEM TO COOL DOWN BEFORE PROCEEDING TO STEP 2.
Place top half of the shield on the catalytic converter. To properly identify the top and bottom halves of the shields refer to ( Figure 1 ).
Position bottom half of shield in place. For ease of installation hold the bottom shield in place with a screw type stand ( Figure 2 ).
Using the supplied clamps secure the shields in place. Index the clamps opposite to each other so they compress the shields evenly. Place the clamps beside the existing seams of the catalytic converter, refer to (Figure 3) for more detail.
Tighten the clamps evenly. Torque to 5-10 N-m (44-88 lb-in).
Once installation is completed visually inspect the metal corners of the shield to make sure they are not contacting the catalytic converter. Metal to metal contact may transmit noise.
Remove screw type stand.
Cut excess material from clamps.
Repeat steps 1-8 for second catalytic converter.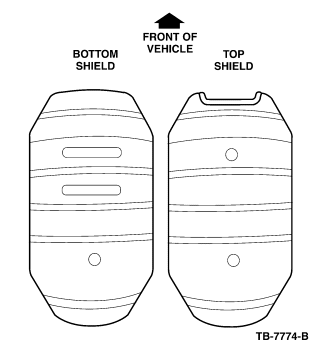 Figure 1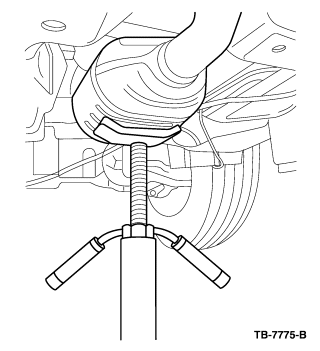 Figure 2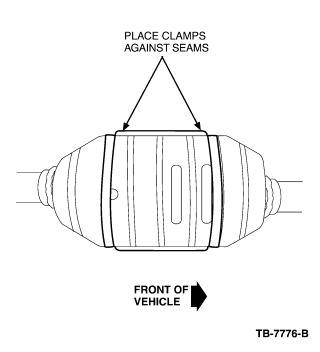 Figure 3
| PART NUMBER | PART NAME |
| --- | --- |
| 3W7Z-5E258-AA | Kit – Shield |
Super Duty Exhaust